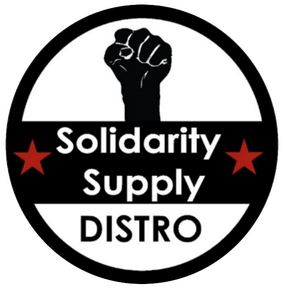 SOLIDARITY SUPPLY DISTRO
---
Until the crisis ends, we serve the people.
Organizing and providing mutual aid for people in the Boston area.

Solidarity Supply Distro is a coalition of leftist and anti-capitalist organizers who are building community resilience to the COVID-19 pandemic.
---
IMPORTANT UPDATE: FREE GROCERY DISTRIBUTION ENDS ON July 26
Monday, July 26, is the last day we will give out groceries. We are sorry we cannot go on longer. We do not have enough money or volunteers.

The Community Fridge will still be out front of Make Shift (549 Columbus Ave). Please continue to use it!
OTHER PLACES TO GET FREE FOOD AND SUPPLIES
---
FREE STORE FOR THE PEOPLE
We hold a monthly Free Store for the People outside the Lucy Parsons Center in JP.
We offer clothes, household goods, baby items, toiletries, small appliances, toys—you name it!
WHEN: Sunday, August 8th from 12 - 2 pm
WHERE: Across from the Lucy Parsons Center, 358 Centre St in Jamaica Plain
WHO: You, me, anyone who needs it.
---
"Foods of Joy",
SSD's march 2021 ZINE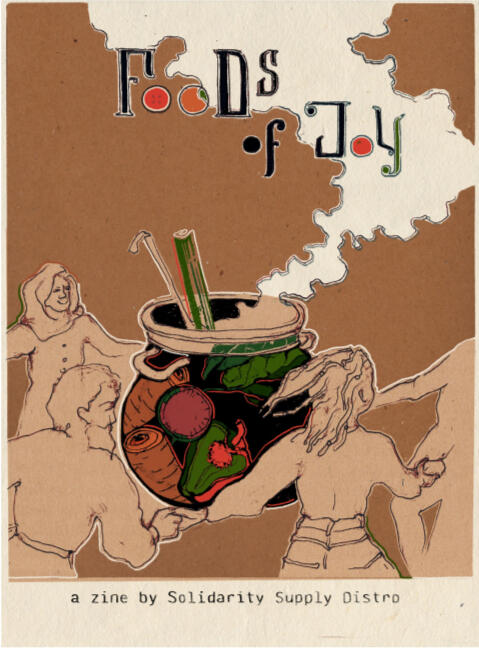 ABOUT THIS ZINE:

For this publication, Solidarity Supply Distro volunteers and community members were asked to contribute stories and recipes of foods that kindle joy or are prepared and eaten in celebration. Food is a necessity, and food traditions abound even when food does not. Celebration and joy are also necessities, both as tools for surviving and as tools for fighting oppression.
With this zine, we recognize the central importance of food in our lives, and we acknowledge joy and celebration under oppression as radical. We hope this publication brings you joy and reflection upon your own food traditions, in addition to greater appreciation for those of your neighbors.
---
GET INVOLVED:
YOU can help provide food and essentials to the people of Boston.

Donate to our ongoing fundraising campaign, or volunteer to join the effort!
---
SSD STUDY GROUP
Our weekly study group has been postponed indefinitely. If you would like to work through the text, Angela Davis's Women, Race & Class , on your own, please continue to use the link below!
WHO IS SOLIDARITY SUPPLY DISTRO?
---
SSD is a mutual aid group organizing in Boston, MA.

We're organizing to help meet the basic needs of our comrades in this time of crisis.
Read SSD Speaks: One Year Later—Our Successes, Failures, and Future
---
WHAT WE'RE DOING
Right now, we distribute free supplies to the people who need it.

Every Monday at 4:30pm, we offer free bags of groceries and toiletries at MakeShift Boston (549 Columbus Ave). We also deliver supplies to those who can't make it to this weekly serve.

Once a month, we hold a Free Store for the People outside the Lucy Parsons Center (358 Centre St), which distributes free household items and clothing to anyone who needs it.
---
WHY WE'RE DOING IT
We are influenced by the Service to the People programs of the Black Panther Party, who understood that, while the problems facing the masses will not be solved without revolution, it's the responsibility of militants to ensure the survival of the people until that moment comes; they called these programs "survival" programs, as in "survival, pending revolution."
.
We are not a charity, we are a survival program.
---
POINTS OF UNITY
⭐

We are anti-capitalists and anti-racists.

The Covid-19 crisis has only revealed already existing contradictions within capitalism; impact has been most felt in working class communities, especially Black, Indigenous, and communities of color.

⭐

We unite against the capitalist state and its repressive arm, the police, which occupies Black and working class communities.

Even as the state offers band-aid fixes to the pandemic, we understand that capitalism is the source of our suffering. We fight for revolution and the complete abolition of capitalism and its police force. Only political power in the hands of the working class will be able to resolve the crises of capitalism.

⭐

We serve the people.

While we understand that mutual aid alone cannot resolve the crises of capitalism, survival programs by and for the people are a tool to build and deepen our relationships as organizers with working communities in the Boston area, to develop revolutionary leaders from within working communities, and to raise the consciousness of the working class. Mutual aid teaches the masses that we are able to care for one another; it is a glimpse into the society we could build, free from the ravages of capitalism and settler colonialism.

. . .

We have a ton of work ahead of us, and need all the help we can get.
If you agree with our points of unity and would like to help us serve the people, please contact us using the button below.